I am not exactly a fan of players whose values suddenly shoot up without having a solid and consistent history of success. In fact, I would say I am a rather staunch skeptic of valuing players highly who do not have a proven history in general (cough, cough, Saquon Barkley). So naturally, I took great concern with Jerick McKinnon's soaring value.
Once a late-round flier, McKinnon's average draft position has risen to incredible heights. According to Fantasy Football Calculator, he has jumped almost six whole rounds since March.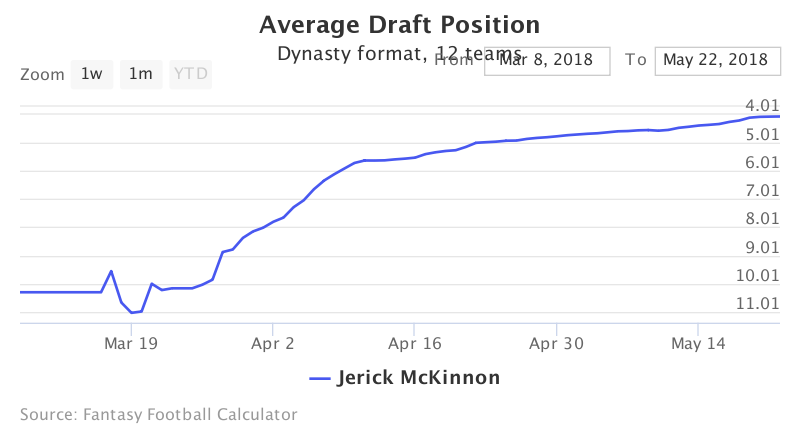 His current ADP sits at 4.02 in 12 team start-up drafts, however, that statistic is extremely volatile, with McKinnon's peak position reaching the mid-second round. The point is, his value has increased tremendously after a fairly nice season. But should it have? Does finishing a season 24th overall in fantasy points scored warrant that?
A large and obvious part of McKinnon's increased ADP was his signing with the Kyle Shanahan led San Francisco 49ers. "He plays for an offensive genius now!" I hear the McKinnon truthers scream. Well yeah, that is true. Shanahan does seem to have a knack when it comes to getting the most out of his players, a skill we saw come to life in Atlanta. Utilizing Devonta Freeman and Tevin Coleman's pass-catching abilities, Shanahan game planned the Falcon's to two consecutive seasons of being top eight in running back receptions. That is a wonderful stat for fans of McKinnon, and it is one that they can take with them as he joins the 49ers.
Last season, Shanahan's first with the 49ers, the team was second only to New Orleans in running back targets. The major benefactor of those targets is now gone as well, as Carlos Hyde skipped town to join the Browns, which was a decision that certainly does not have history on its side.
Ok, so the situation for McKinnon is looking up in San Francisco. His coach commands a unique and beneficial scheme, and his quarterback dices up defenses with his good-looks, it is almost tailor-made just for McKinnon fantasy hopefuls! But do not get excited yet, because we need to address if last year's success was really a success at all.
McKinnon had a hot and cold last season in terms of fantasy production. He averaged just 8.1 fantasy-points-per-game and 3.8 yards-per-carry. McKinnon built his name on a couple big games, rather than consistency. Over 16 games he had five over 10 points and 11 under, however, his usage was also inconsistent.
(Touches = receptions + rushing attempts)
As you can see, he received 20 or more touches just three times last season and was given less than 15 for over half of it. Of those touches, 51 came from receptions, which he achieved on 68 targets. This means McKinnon caught 75% of his targets, which places him in the top 10 for catch percentage for running backs who received 50 or more.
This is certainly a skill Shanahan will make the most, and one that makes up for McKinnon's subpar between-the-tackles running ability.
McKinnon is a very talented, multi-faceted running back who can make an impact this upcoming season. He is insanely fast, dangerous in the open field, and has the ability to make any play a big one. But he still has not had consistent success and is not a traditional running back.
If you can snag McKinnon in the mid-to-late rounds then it is a gamble worth taking, but he is not worth reaching for. And if you are a team who needs consistency from your running back then he is not for you. Look at him as a home run hitter until we see otherwise during his time with the 49ers.
Attributions:
ADP Data: Fantasy Football Calculator
Statistical Data: FFToday
Catch Percentage Data: Pro Football Reference